Things to do in Fraser's Hill: Family-Friendly Guide
Far in the highlands of rainforest-clad Malaysia is a quirky slice of colonial-era nostalgia. A mountaintop village centred around a clocktower, a golf course and cream teas. There are so many interesting things to do in Fraser's Hill (also known as Bukit Fraser in Bahasa Malaysia) from birdwatching to hiking. It really is a unique and captivating family-friendly destination in Malaysia.
Reminding me of childhood holidays in Scotland in the early 1990s: drizzle, old-fashioned guesthouses and decidedly bland food, Fraser's Hill is a unique place to visit. It certainly makes you feel like you've taken a trip back to a different continent and time.
Planning a trip to Fraser's Hill
Keep reading if you are looking for fun things to do in Fraser's Hill and need help creating an awesome Fraser's Hill itinerary. We can give you the low-down on what to do in Fraser's Hill with or without kids.
Whether you're planning a weekend trip to Fraser's Hill or just a day-trip to Fraser's Hill from Kuala Lumpur, this Fraser's Hill blog covers all the Fraser's Hill attractions that you need to know about.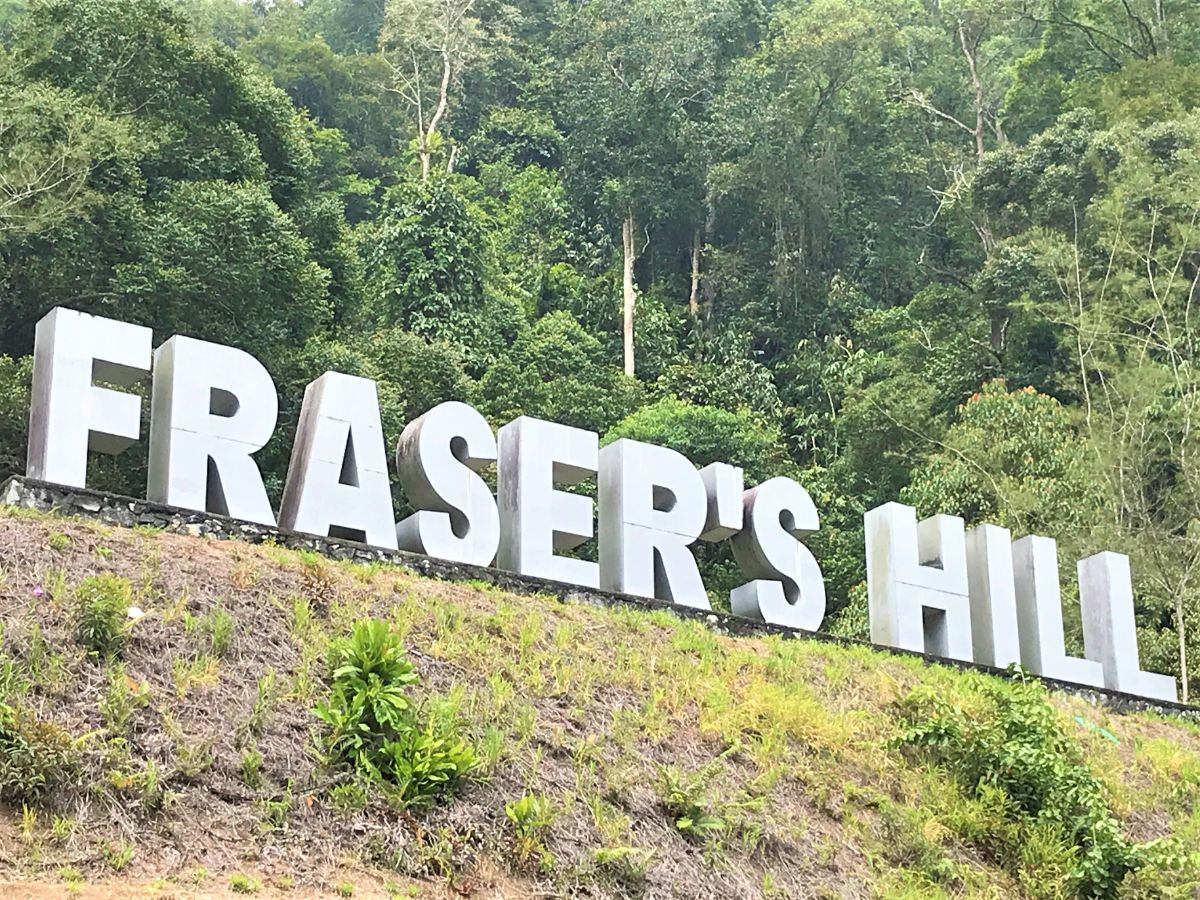 We will walk you through what to do in Fraser's Hill, Malaysia with and without kids as well as where to stay in Fraser's Hill so that you can start planning your perfect Fraser's Hill holiday.
First, let's delve into Fraser's Hill's past a little…
The history of Fraser's Hill
Fraser's Hill is named after a rather shady Scotsman, Louis James Fraser, who in the 1890s ran opium and gambling dens in this tin mining area. It was, in fact, the rather more honourable Bishop of Singapore who in pursuit of Louis Fraser decided to turn this lawless hill station (with its cool temperatures and lovely views) into a 'little England'. It strikes me as somewhat odd that the Bishop went on to name this peaceful retreat after a man who dealt in drugs and vice but that's history for you!
In the early twentieth century, Fraser's Hill became an idyllic country retreat for British residents in Kuala Lumpur. Only 100 miles from the city, the cloud-covered hill station offered refreshing mountain air and much cooler temperatures.
Quaint greystone bungalows were built around Fraser's Hill. Many of which you can still stay in today. Pubs and restaurants were built as well as an attractive village centred around the clock tower and golf course.
Things to do in Fraser's Hill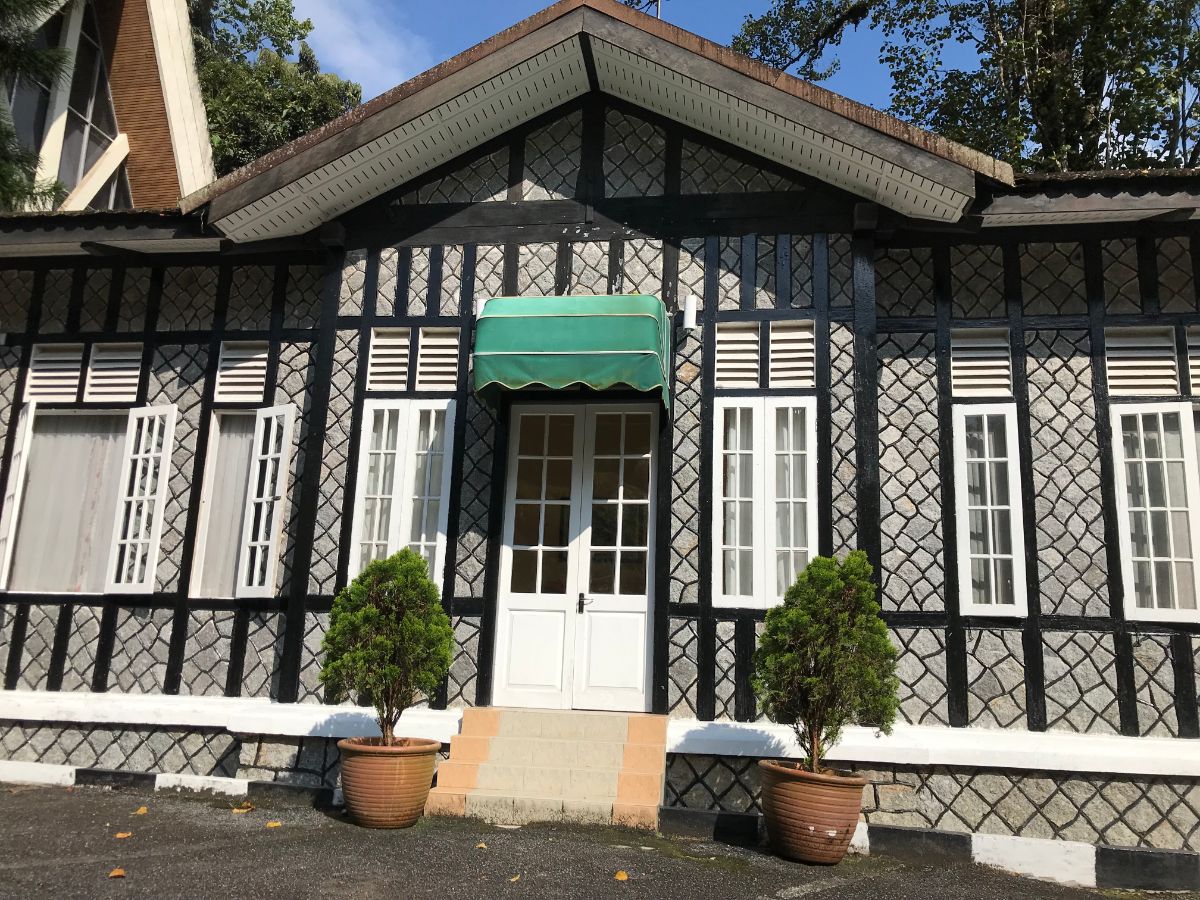 As a historic resort town, Fraser's Hill is an excellent place to try out all sorts of leisure activities. The cool weather makes the area great for doing more active activities that down in the Klang Valley would leave you drenched in sweat.
Approach all the ideas listed below with a pinch of 'nostalgia' as many of the places are very dated, in need of repair and often closed without notice.
Many of the things to do in Fraser's Hill have a distinctly old-school British flair which as Brits living in Malaysia, we loved!
For local Malaysians visiting Fraser's Hill, let me just say that Bukit Fraser is more representative of Scotland in the 1950s than it is of contemporary British society today ( honestly ). Oh, and British food in the UK itself is generally so much better!
Take a selfie at the clock tower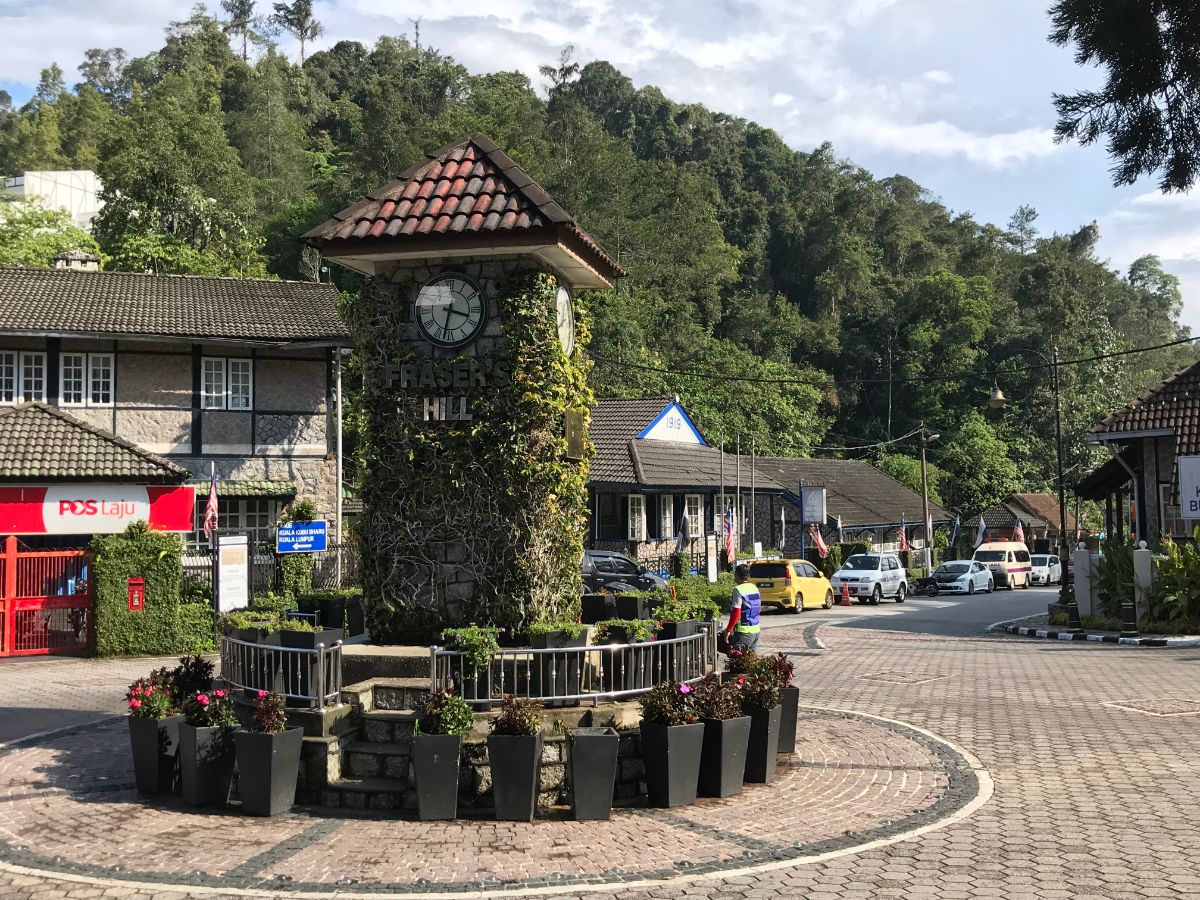 The ultimate Bukit Fraser experience is a photograph at the iconic clock tower in the heart of the village. The clock tower actually functions as a mini-roundabout meaning that motorists have to navigate carefully past hordes of photo-taking tourists.
Get into birdwatching
Fraser's Hill claim to fame is that it is an amazing place to spot birds. Over 270 species of migratory birds land in Fraser's Hill every year as part of their long migration southwards. Some come from as far away as Siberia.
Visit the Fraser's Hill Interpretative Centre to learn more about these flying visitors. We asked to visit the centre at the Tourist Information Desk (in the Puncak Inn) but the lady suggested that our kids (at 4 and 5) were a bit young to appreciate it.
The annual Fraser's Hill International Bird Race attracts bird enthusiasts from around the world. Participants enter a 24-hour race to identify and count as many birds as they can.
Learn the history of Fraser's Hill with the Heritage Trail
Around town, you will see many signposts detailing the history of certain building and sights in Bukit Fraser. I wasn't able to work out if there is a leaflet with a route to follow from sign to sign. Maybe you just need to spot the signs as you wander around. Reading the signs is a great way to learn a little of the heritage of Fraser's Hill.
Play a game of golf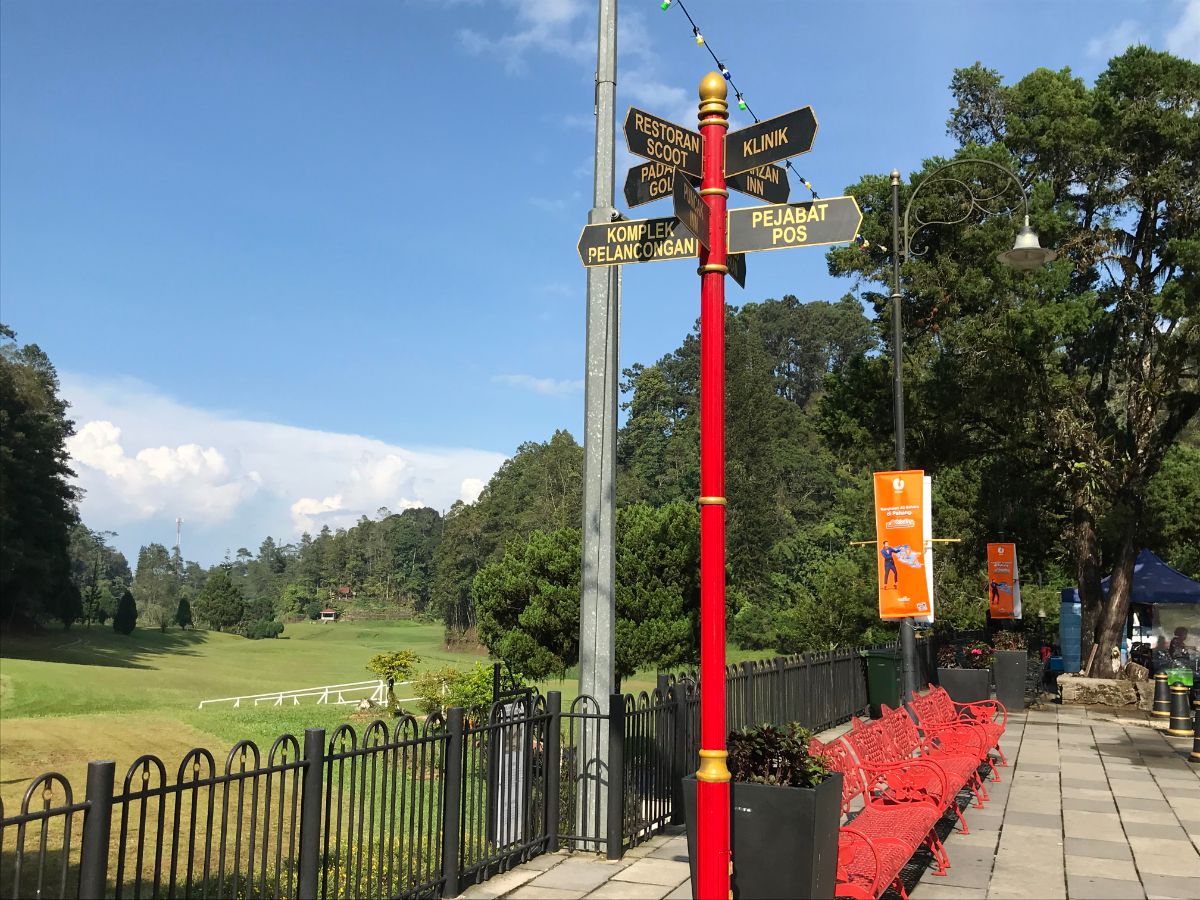 A round of golf on this lovely 9 hole golf course is a must if you're a golfer. Unfortunately, children aren't allowed on the course. Guests staying at the Puncak Inn get a 20% discount.
Have a 'holiday' laugh with mini golf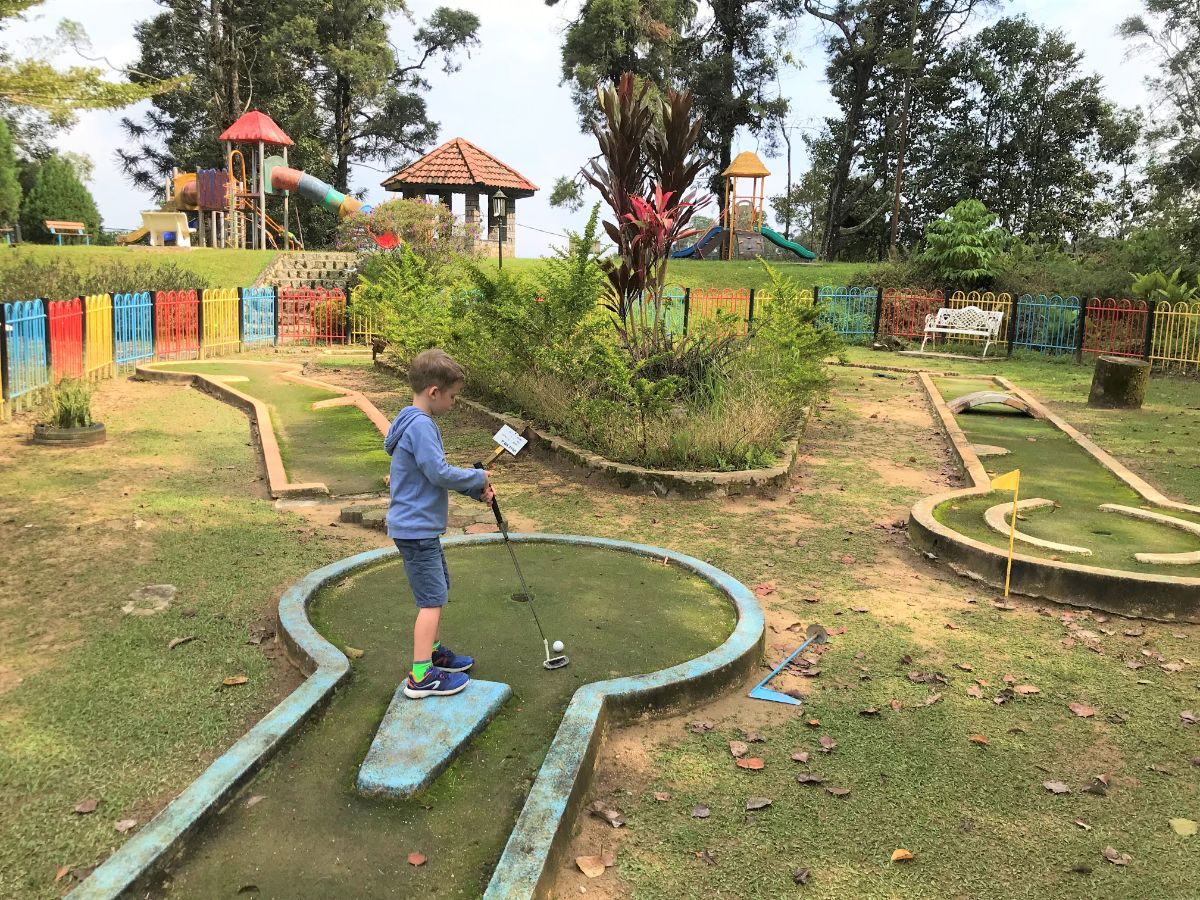 Whether or not you have children, mini-golf is a fun – and very British – holiday activity. Whilst, not the best mini-golf course in the world (it is rather sad-looking), it only costs 8 RM per person for 30 minutes.
We had good fun and went around the course several times. The ground around the small, simple mini golf course can be muddy and slippery so watch out!
Savour a traditional 'British' cream tea
Cream tea, also called afternoon tea, is a lovely British tradition mostly because it involves lots of tea and cake. Expect a tray with a pot of tea, cups and saucers, scones, jam and clotted cream. Some cream teas will also include other cakes, pastries and little finger sandwiches.
The quintessential place to try a cream tea is on the sunny terrace at The Old Smokehouse . Cream tea is served from 3 pm-6 pm.
Ride a horse
Imagine you're in an Enid Blyton book with a short trod around The Paddock on horseback. This picturesque little equestrian centre lets adults and children try out horse-riding under supervision.
Take a bike ride
There are several places around Fraser's Hill where you can hire bicycles. Although the roads are quiet, they are very hilly and windy so take care. Children are also rent trikes to try near the playpark.
Relax and play at Taman Awam Bukit Fraser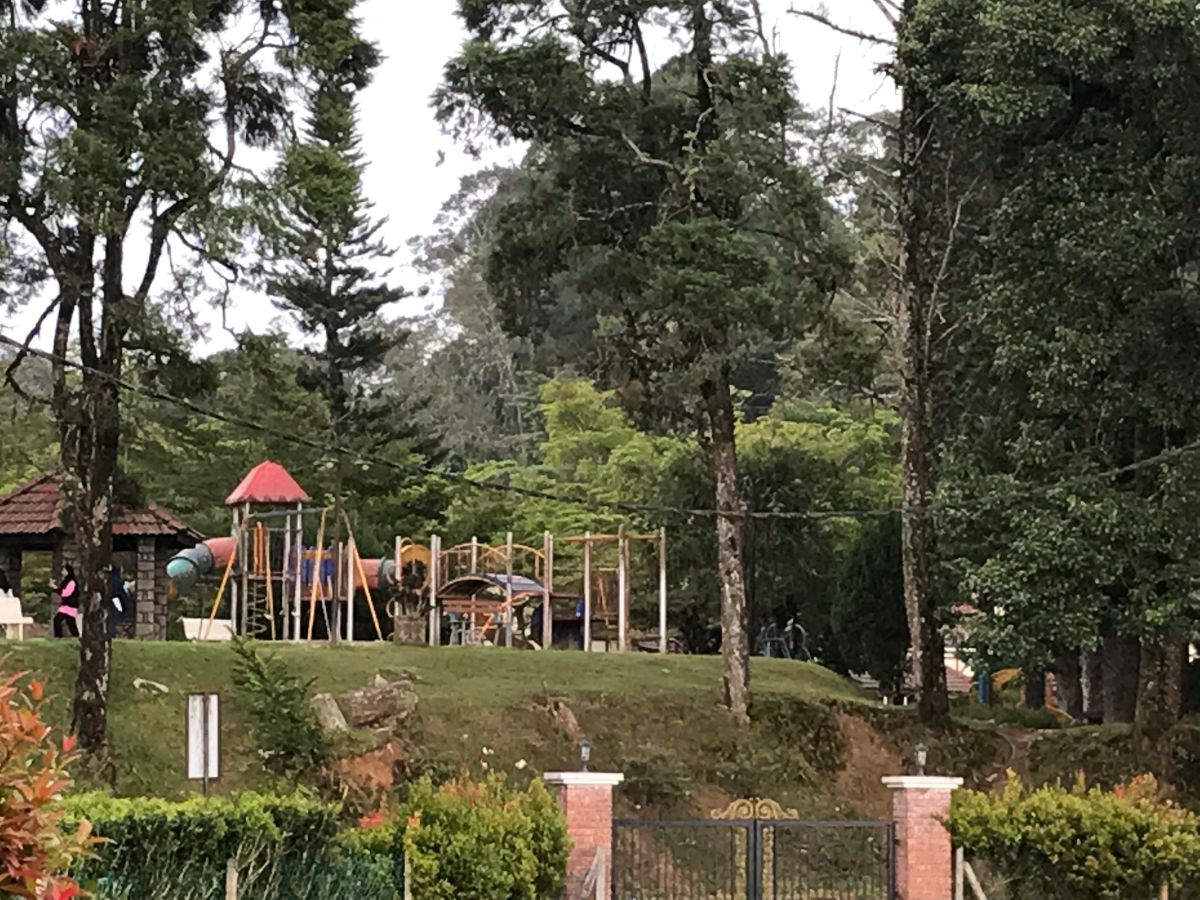 This rather weathered hilltop play park with a small cycle track is right next to the Food Garden. One of the two hawker centres in town. Whilst it needs a good wash, the park is a nice place to get the kids run around, sit in the shade or watch locals socialise.
Spot some wildlife
As well as a huge variety of exotic birds, Bukit Fraser is also home to lots of mammals. We spotted a family of wild boar crossing the road, various troops of monkeys hanging out in the trees and several tree squirrels .
Get out on the water at Allan's Water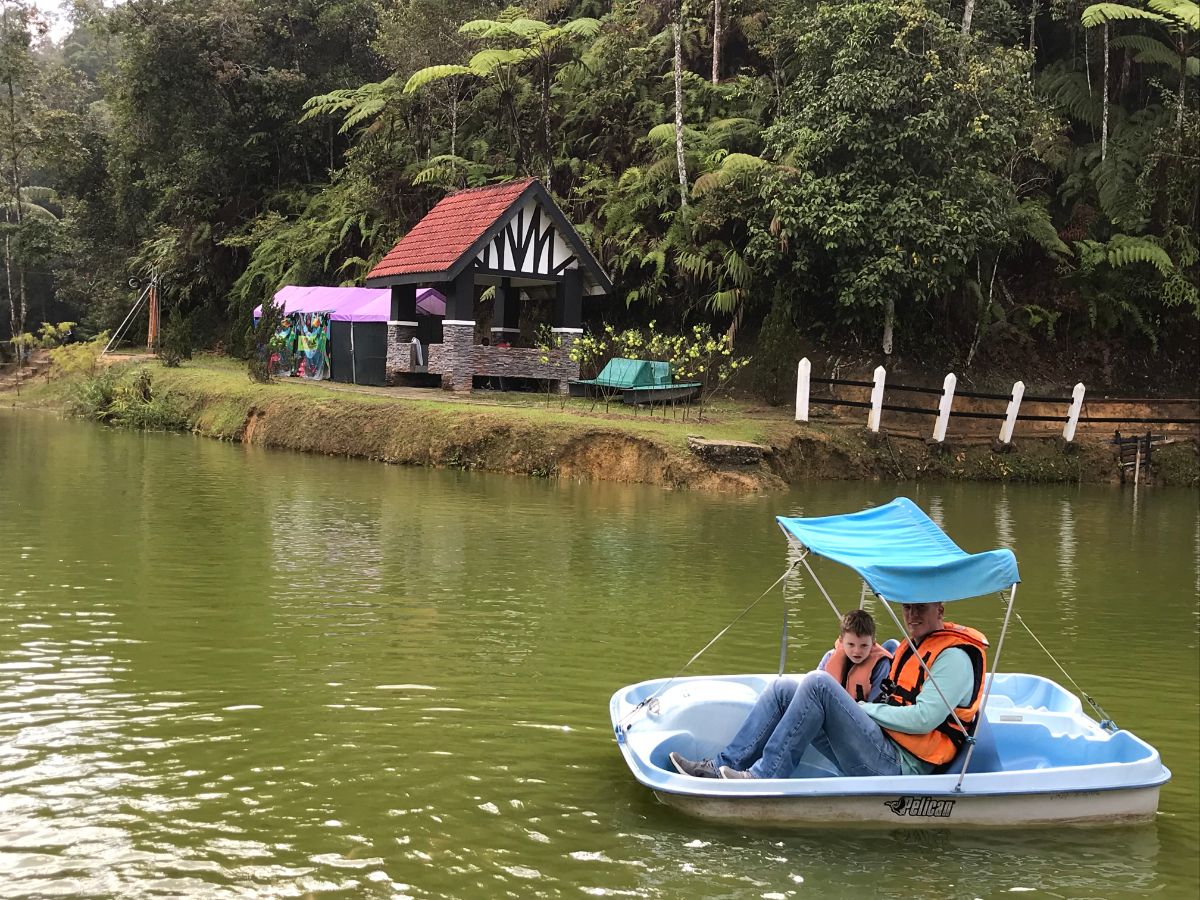 A highlight of Fraser's Hill is this small reservoir that has been turned into a leisure facility. You can hire a pedalo to take out on to the water. The boys had great fun steering around the little lake. You can also feed the very large fish at Allan's Water. Purchase some fish food from the little kiosk and watch the giant koi jostling with each other to get the best bites.
Visit the wonderful Jeriau Waterfall
If you can brave the precarious drive down to Jeriau Waterfa ll, you are in for a treat.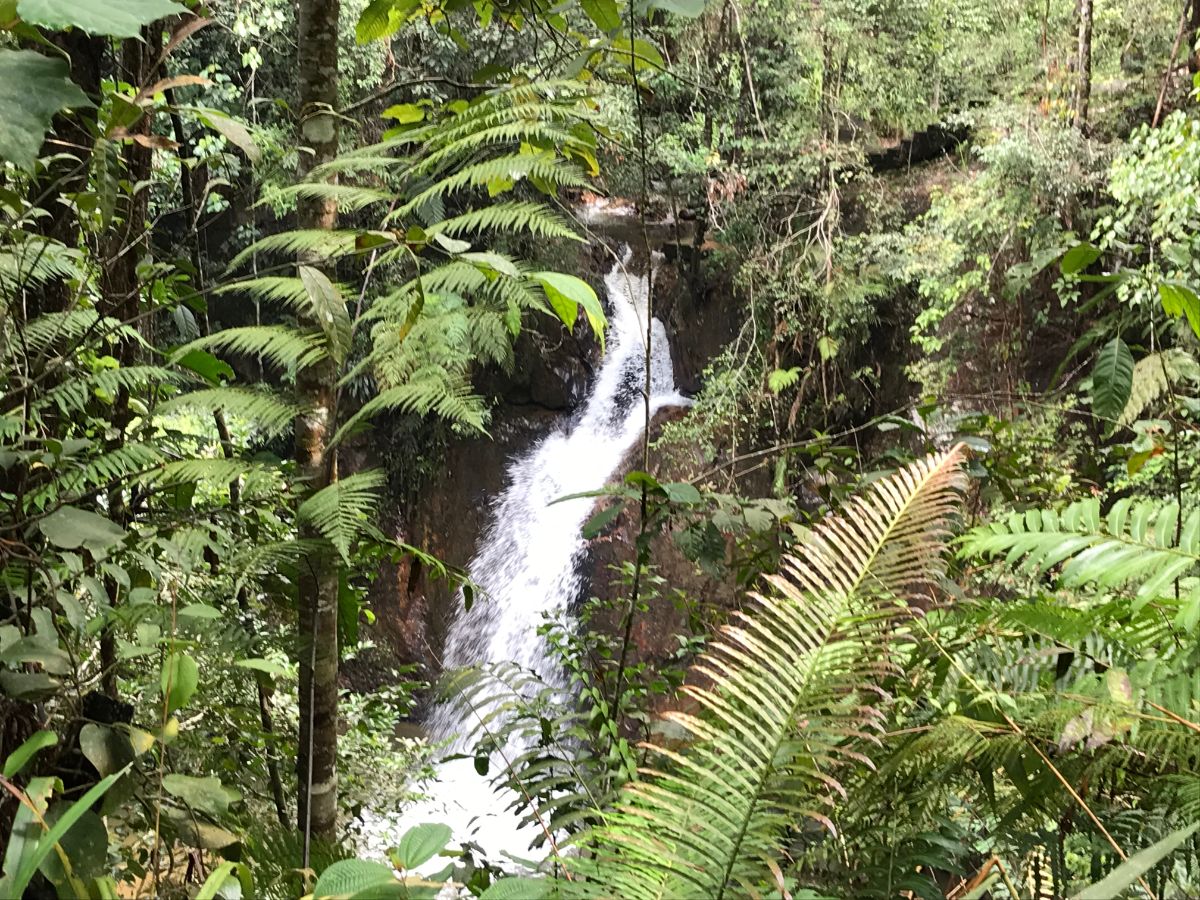 A well-paved path leads from a small car park (4km from Fraser's Hill) down to the waterfall. There are several little orange concrete shelters along the way if you need to rest as well as a little kiosk selling drinks and snacks. It is an easy and safe walk to do with young children.
The waterfall is very pretty and you can view both the top and bottom. Swimming is not recommended but many people do. As it rains a lot in the area, be careful on the steps and pavements as they can be slippery.
We saw lots of wildlife at Jeriau Waterfall including gigantic armies of ants, monkeys and leeches. Fortunately, we didn't spot the local species of tarantula.
Shoot some arrows
Learn the medieval skill of archery also at The Paddock in Bukit Fraser. It is around 10RM for 10 arrows.
Fly through the woodlands
If the Fraser's Hill activities above aren't exhilarating enough for you then try this 900m long Flying Fox course above the jungle-clad hills of Bukit Tinggi. Click here for tickets.
Go for a hike through the lush rainforest
Last but not least, hiking is perhaps the absolute best thing to do in Fraser's Hill. Get off the roads and into the tropical rainforest to really experience the local flora and fauna.
Make sure that you wear good quality hiking shoes and socks. There are leeches around (yes, I got bit!). Don't forget the mosquito spray either.
Always hike with lots of water and it is a good idea to take waterproofs as downpours are frequent. You can get maps and hiking information from the front desk at the Puncak Inn which doubles as a Tourist Information Centre.
The best family-friendly hikes in Fraser's Hill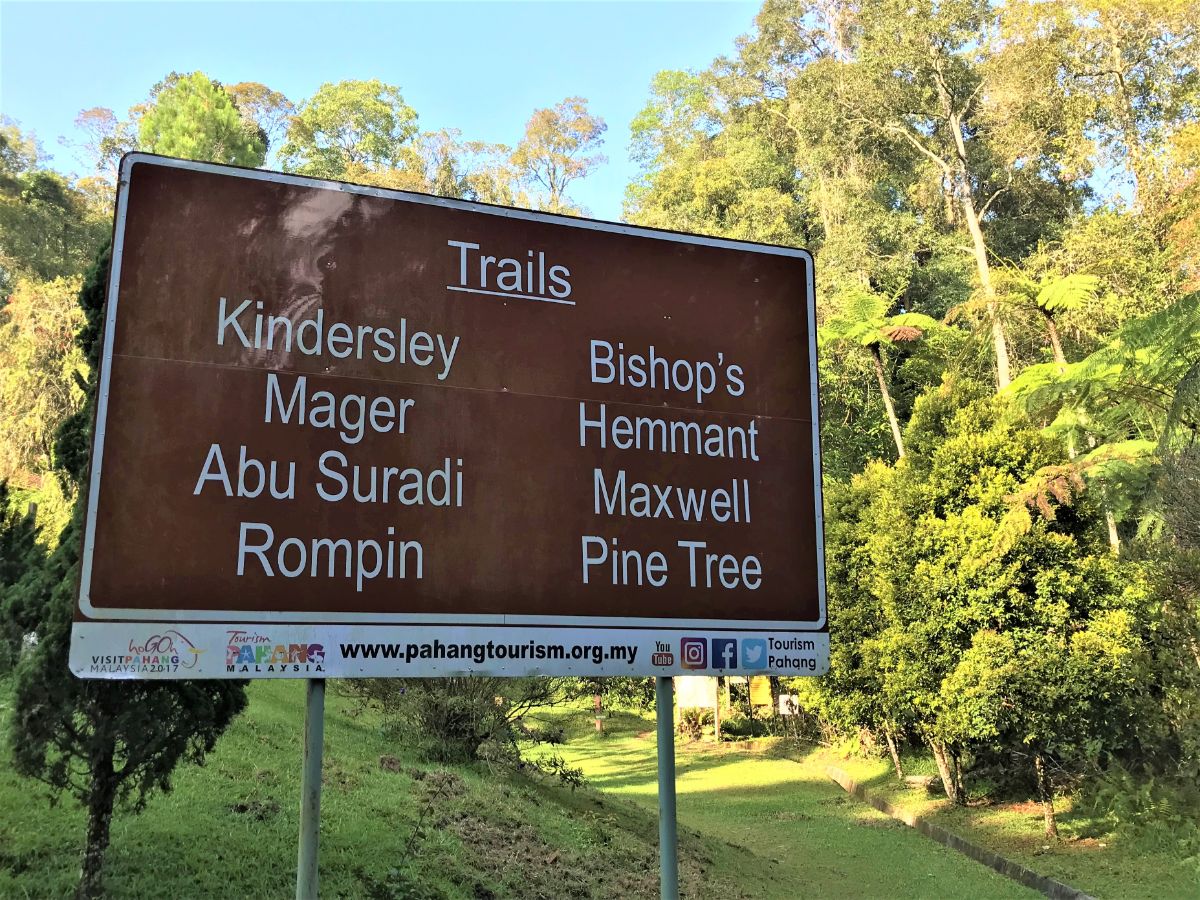 The Abu Suradi Trail Length: 0.5km
Difficulty: Low. A few minor obstacles. Suitable for families: Yes
Path type: Mostly wide and level through the rainforest. This path heads west from The Cottage (Bentong Bungalow). Originally a bridle path, it connects Maybank Lodge to the golf course.
The Mager Trail     Length: 1km
Difficulty: Low. A few minor obstacles.  Path type: Mostly wide and level. Suitable for families: Yes
This path leads behind the village through a well-known birdwatching area.
The Hemmant Trail   Length: 1km
Difficulty: Low. A few minor obstacles. Path type: Mostly wide and level through the rainforest.    Suitable for families: Yes
This lovely path above the golf course crossing streams. Find it by heading east just downhill from the Mosque. The views from the trail are breath-taking.
The Rompin Trail      Length: 0.5km
Difficulty: Low. A few minor obstacles.    Path type: Mostly wide and level through the rainforest
Suitable for families: Yes
Named after the Rompin Bungalow, this trail is used regularly by locals. The entrance is on the road leading to The Olde Smokehouse.
Hikes in Fraser's Hill for serious hikers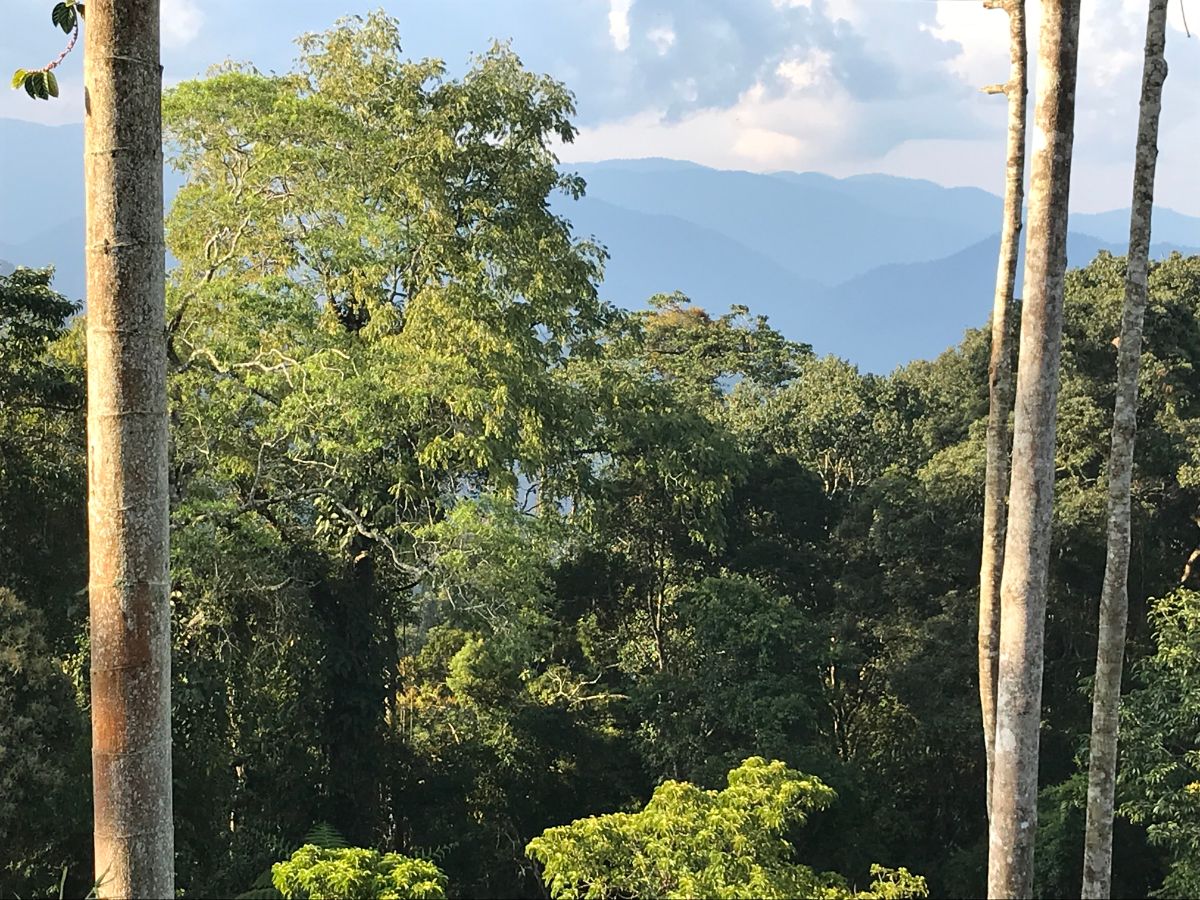 Before heading out on the hikes listed below, leave your details with either the local police or at the Tourist Office. Make sure that you are well-prepared with waterproof clothing, a mobile phone/ GPS tracker, water, a map and a torch/ flashlight.
The Bishop Trail      Length: 1.5km
Difficulty: Moderate.     Suitable for families: Older children used to hiking may enjoy it.
This path named after the Bishop of Singapore leads through some of the best wildlife-spotting areas in the vicinity. Watch out for leeches in the rainy season!
The Maxwell Trail      Length: 1.8km
Difficulty: Hard.           Suitable for families: No
Path type: Steep and narrow. Mostly climbing with several obstacles to pass.
This quiet trail is definitely challenging. The trail is unkempt and muddy with lots of leeces. It is only suitable for walkers with lots of stamina who enjoy hiking through isolated areas. The views from the summit are incredible.
The Pine Tree Trail   Length: 5km
Difficulty: Hard and physically challenging.    Suitable for families: No
The most famous hike at Bukit Fraser is the Pine Tree Trail. The summit (1505 metres) offers amazing views over the surrounding hills. Unfortunately, deforestation and climate change are affecting the flora on the summit of the hill. Now only one of the eponymous pine trees remains.
Where to eat in Fraser's Hill?
You can spend a lot of time reading Tripadvisor reviews for eateries in Fraser's Hill and not really find anywhere that sounds half decent. It is a shame that some of the best chefs from Kuala Lumpur aren't opening great restaurants here as it would really give the tourist trade a boost.
The Olde Smokehouse
Opened in 1937, this old-style country house is open for lunch, afternoon teas and dinner. We arrived at 5 pm for dinner and had a pleasant drink (of London Pride) on the sunny terrace until the kitchen opened at 6.30 pm.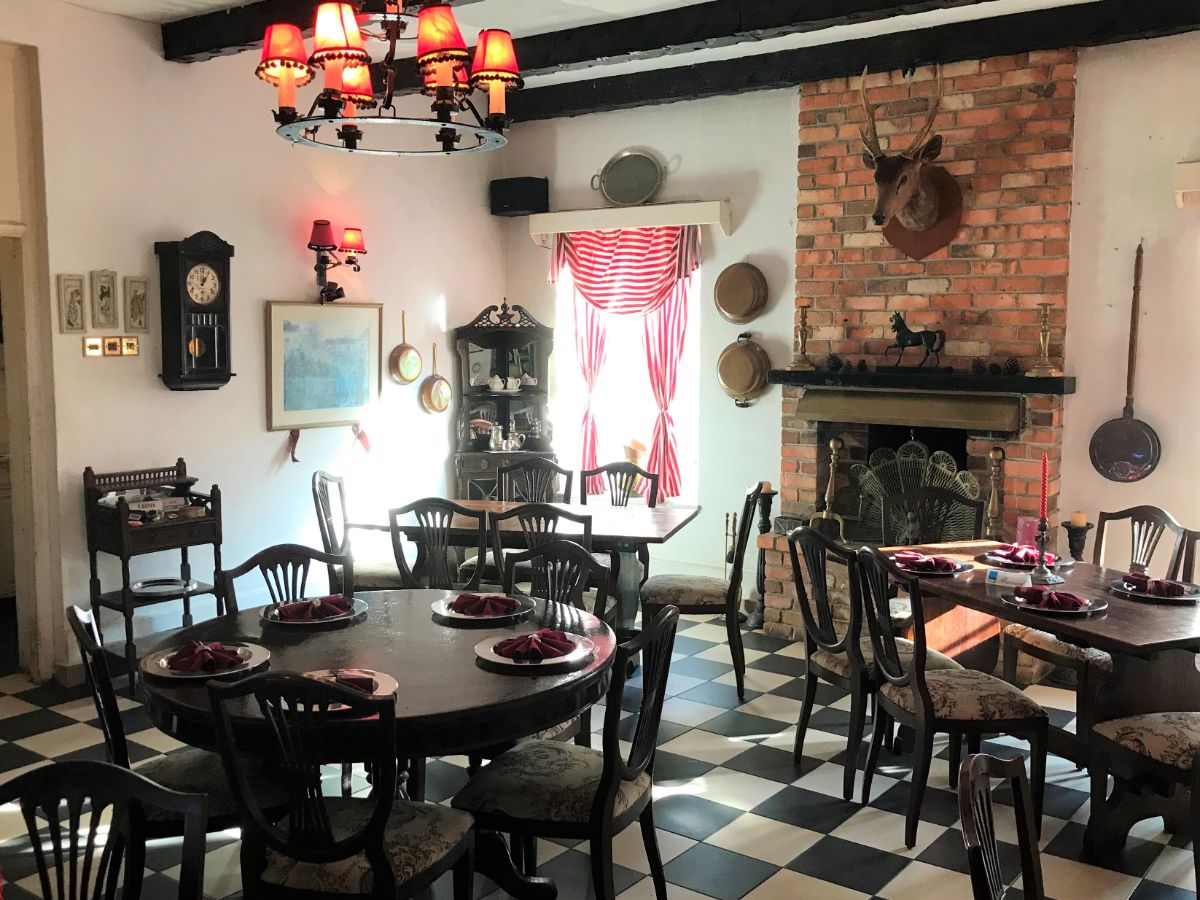 The service was more Fawlty Towers then polite butler-style. The menu was all British fare including bangers 'n' mash, beef stew and roasts. The quality was similar to 1980s school dinners but it was edible and went down well with the kids. The dishes aren't cheap and could be better for the price. The dining room is very old-school with dark wooden furniture. The little snugs and dens with fireplaces were charming.
Scott's Restaurant and Pub
The reviews of this English-style pub are mixed. When we tried to stop by twice but the pub was completely boarded up during our stay. The tourist information lady had no idea if or when they were opening that weekend.
R oti Canai Amiera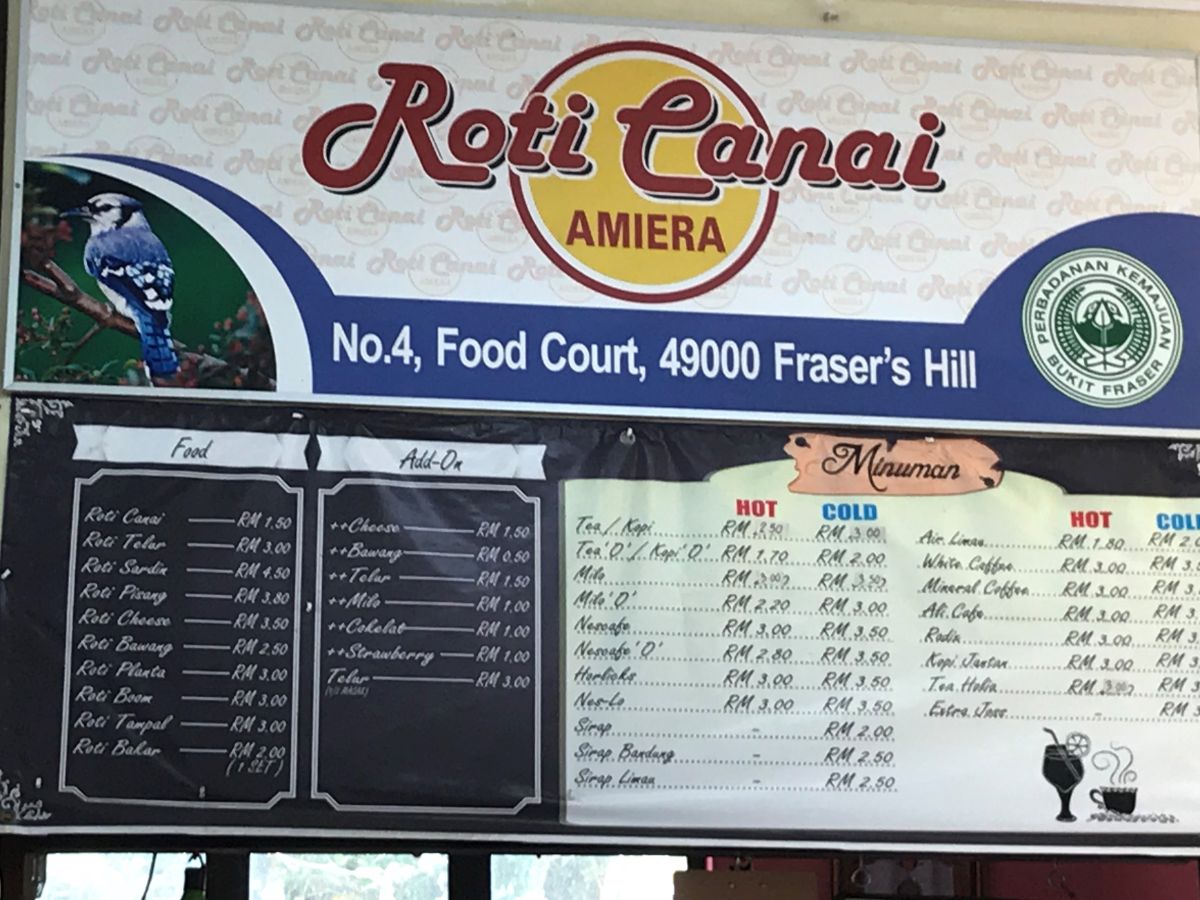 The best service in town was at the local Roti Canai stand in the Pokok Pines Road Hawker centre. The cook was a master at making delicious Rotis. He whipped us up a couple of roti Pisang (banana flatbreads) for the kids and some roti canai (flatbread with curry dip) for us adults.
Aida Daniya Restaurant & English Teahouse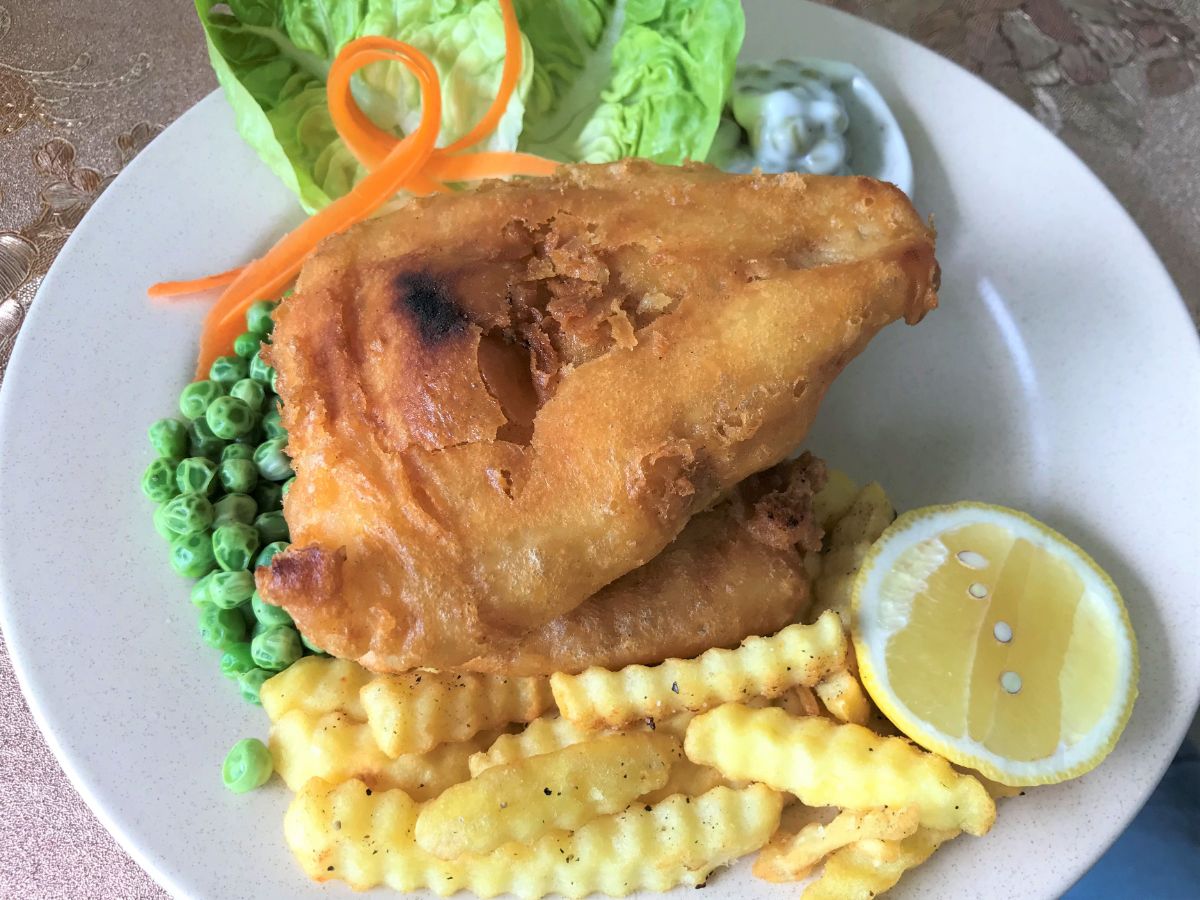 The views from the balcony (with complimentary binoculars) are gorgeous. All the food we ordered was under-cooked and we had to send it back. I would not recommend Aida Daniya Restaurant & English Teahouse.
Where to stay in Fraser's Hill?
We stayed on the Silverpark Resort in a very dated apartment. See it here. Whilst it was like a time machine trip back to the 1980s, there was nothing wrong with the 2 bedroom apartment.
The Shahzan Inn Fraser's Hill is popular and right in the heart of the village.
Stay in one of the traditional stone bungalows. Suitable for large groups. Check out Green Acres Bungalow on Booking.com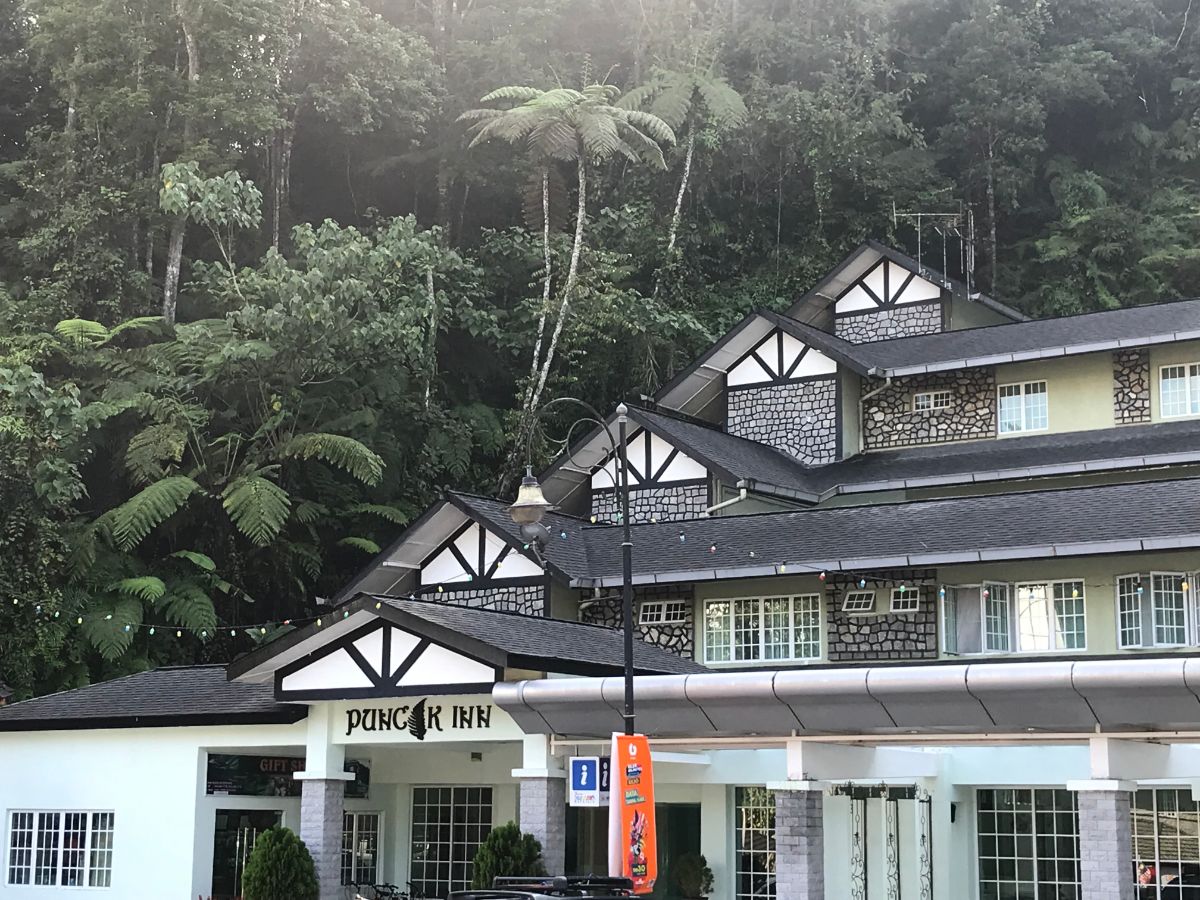 Perhaps the most famous hotel is the Puncak Inn . It is right in the heart of the village, has an Italian restaurant onsite and is where the tourist information is located. The Puncak Inn boasts a range of rooms, apartments and houses.
The Smokehouse is popular for cream teas and overnight stays.
The Smokehouse is part of a chain of vintage style hotels across Malaysia. Visit their website for more information and reservations.
How to get to Fraser's Hill from Kuala Lumpur
Driving is the best way to reach Fraser's Hill. Having your own vehicle will give you the freedom to explore local waterfalls as well as the village centre. Beware that the road to Fraser's Hill is very windy and often narrow. The main roads in and out of town are one way.
Make sure you have a full tank of petrol as there is no gas station in Bukit Fraser.
If you're travelling by public transport, take the KTM Komuter train to Kuala Kubu Bharu (KKB). From KKB, you will need to arrange transport. You can sometimes find taxis in KKB but it is better to organise a pick-up with your hotel in Fraser's Hill.
Local Malaysians love to ride bicycles and motorbikes up to Fraser's Hill at the weekend. It looks exhilarating riding those shady, hairpin bends.